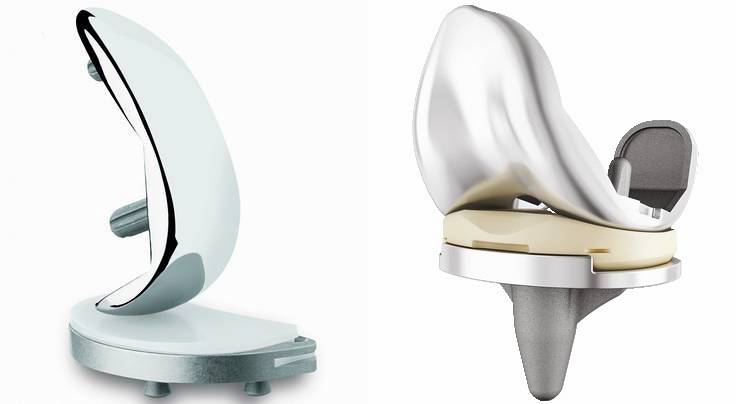 The latest partial and full knee replacement implants are finely engineered, to bring ease of movement and durability.
---
On the left, is the ZUK medial unicompartmental knee replacement, which we use for arthritis confined to the medial compartment of the knee.
Unlike many other partial knee replacements, this has a lifespan equivalent to a total knee replacement. It uses a fixed bearing to reduce the risk of dislocation seen in mobile bearing designs.
The total knee replacement on the right is the Attune, a finely made implant with clinical results to match. You can see how the Attune modular system is designed to mimic your own knee structure in the video below:
---
There can be occasions where other implants are right for patients, such as a patellofemoral replacement for isolated patellofemoral arthritis. The choice is always made on potential clinical benefit and individual need.
How Knee Replacement Helps
Damage to the knee can be resolved by repairing ligaments, or cartilage surfaces, although serious degeneration may call for replacement. Osteoarthritis is a common reason for replacement, or other medical conditions such as rheumatoid arthritis.
A new joint can improve mobility, eliminate pain and restore quality of life. This may be achievable by replacing part of your knee, a less invasive procedure which preserves more existing bone and ligaments, although total replacement has advanced a great deal over the last decade, with significant improvement in movement and stability compared with older designs.
However damaged your knee is, or if other types of treatment have not helped, a more normal feeling and functioning knee is possible with knee replacement surgery.
An Established Procedure
You may hear different terms for knee replacement, such as arthroplasty, not to be confused with arthroscopy (keyhole surgery). Replacement can also be referred to as resurfacing, which in a sense is correct.
Damaged areas are replaced by engineered surfaces, through surgery carried out by an orthopaedic specialist. A journey which begins with an initial consultation, a follow up to discuss the planned procedure and answer any questions, followed by pre-operative assessment with the aneasthetic team a couple of weeks before surgery.
Any surgery can carry risks, such as infection, or deep vein thrombosis. Tests are carried out to minimise them, including MRSA screening, ensuring you are physically fit for surgery, confirming your blood group and other details.
Admission to hospital will usually be on the day of surgery, with all the time you need given to ensure you are confident and prepared for your operation.
You will meet team members both before and after your operation. The anaesthetist to make sure you are comfortable, a physiotherapist to plan rehabilitation with you and specialist nurses with experience in orthopaedic surgery.
Looking To The Future
Your surgeon will see you following the operation and advise the nurses and physiotherapist, who will help you to recover from your surgery. They will ensure that you can walk safely, possibly with aids such as a walking frame, or crutches and can manage stairs before allowing you home.
Our procedures are focused on speedy recovery and getting home as soon as possible. You will need to return after 10 to 14 days to have a review in the dressings clinic in outpatients, to ensure your wound has healed well.
Depending on your needs, you may be visiting a physiotherapist at regular intervals and will have been shown home exercises which help. A follow up appointment with your consultant is arranged about 6 weeks after surgery.
You should be able to return to driving a car and non-manual work by then. Failure is rare and as your activities increase, so will strength, movement and confidence in your knee.
We want you to be confident from day one and keep you fully informed. By all means contact us if you have any questions, or to make an appointment.
Techniques For Fast Recovery

Successful surgery always comes first yet does not mean you have to stay in hospital. Planning, patient empowerment and proven techniques come together to offer patients a: