Hip replacement can be required for other reasons but osteoarthritis is by far the most common cause.
---
Mobility issues caused by injury, or degenerative change in the hip can have a debilitating effect. Orthopaedic care is central to relieving pain and restoring freedom of movement in the way nature intended.
Non surgical treatment can help in milder cases, often corticosteroid injections supported by physiotherapy, which is crucial. A physiotherapist can also show you exercises to carry out at home and useful ways to modify activity.
There will still be cases where the best option is to replace the joint with a modern implant, which is a proven procedure. Diagnosis and treatment decisions are supported by x-rays, MRI scans and your consultant's knowledge.
An Established Approach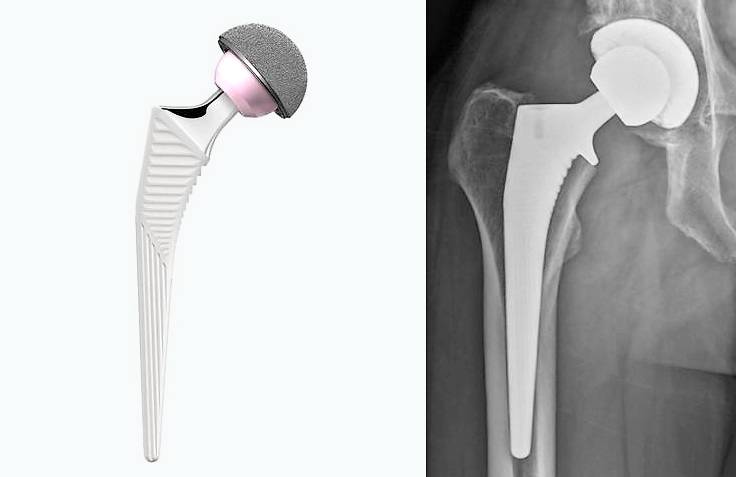 The Corail - Pinnacle hip replacement is shown above, newly manufactured and in an x-ray, after being in place for several years. A titanium stem (Corail) is placed in the femur and the titanium bowl (Pinnacle) in the pevic bone.
These finely manufactured components are joined by a synthetic ball, which fits inside the Pinnacle. The ball is the pink tinged area in the image, designed to work in the same way as a normal hip joint.
The Corail and Pinnacle grow into the bone, in effect becoming part of your body. A lasting solution which we often use by choice for patients up to 70. In later years, hybrid reconstruction using a cemented Exeter stem and uncemented cup can be more apt.
Decisions are individual, with your health, weight and bone structure considered, along with which approach will give you the best outcome. In a few cases, a different implant may be the answer, if this will help you more.
A Clear Rationale
Whether hip replacement is needed due to osteoarthritis, rheumatoid arthritis, trauma, or bone disease, the objectives are largely the same. To remove pain which can be beyond painkillers and allow normal movement.
Being able to pursue pastimes you thought were lost is welcome, although we appreciate how much basic activities can be impacted by a worn, or damaged hip.
The pain often worsens with walking, or stops you sleeping well, getting up, or getting dressed can be difficult, or using stairs. In a mechanical sense, a replacement hip is a swap for a natural joint but in life terms, they offer far more.
Most patients having hip replacement surgery are between 60 and 80, although this is available at any age and is fitted through a supportive approach.
Well Managed Procedure
You will have met your orthopaedic surgeon at an initial consultation and normally at a follow up, to discuss the procedure and answer any questions. They will see you again after the operation and be in touch well beyond this.
Their objective is maximum effect with minimal intervention, an ethos held by the aneasthetic team. They will carry out a pre-op assessment a couple of weeks before surgery, to ensure you are sufficiently fit and carry out tests to reduce any chance of complications.
Admission to hospital will normally be on the day of surgery and the same anaesthetic team will visit you, as will orthopaedic nurses and physiotherapy staff. They all want to be sure that you are comfortable, well informed and relaxed.
Everyone involved in your care will liaise closely, before, during and after your operation. Hip replacement is not minor surgery but there is no reason for each aspect not to go smoothly and you should quickly be back on your feet.
The enhanced recovery protocols we follow assist with this, with more than an overnight hospital stay unlikely to be required. A number of our patients go home on the same day, to focus on the future and their recovery.
This will take time but each day can see improvement and your physiotherapist will play a key part in this. As with all the team, enjoying seeing the remarkable change a hip replacement has brought to your life.
Reducing Downtime After Surgery

Alongside the outcome you want, recovering quickly from surgery sees you home much sooner and aids progress. This comes from following the right protocols at each stage to bring a: